Smile Enhancement Through Periodontal Plastic Surgery and Dental Implants (360) 254-8151
Munib Derhalli DMD, MS, MBA
Board Certified Periodontal Surgeon
Technology
– PRP (Platelet Rich Plasma) Tammy He Crow (Biologic Technologies NW) –
Platelet-rich plasma is obtained from a small sample of the patient's own blood. It is centrifuged to separate platelet growth factors from red blood cells. The concentration of platelets triggers rapid growth of new bone and soft tissue. There is very little risk because we are accelerating the natural process in which the body heals itself PRP speeds up the healing process at the cellular level, and there is virtually no risk for allergic reaction or rejection because we use the patient's own blood.
PRP is mixed as a gel that can be applied directly in tooth sockets and other sites. It also is effective in cases when bone grafts are required to foster proper bone integration for implants. Growth factors in PRP preparations help the grafts bond faster with the patient's own bone.
Our PRP (Plate Rich Plasma) services are provided by Tammy He Crow at Biologic Technologies NW.
– iTero™ Digital Impression System
The introduction of digital impression systems has changed the face of implant dentistry. These systems offer dentists the ability to capture a detailed digital image of the Implant Abutment and submit that information electronically resulting in fabrication of a working model and die system for fabrication of the restoration (Crown). A comparison of crowns made with a digital scan versus those created with a traditional impression found that the scanned restorations showed a greater number of perfect interproximal contacts, better marginal fit, and more accurate occlusion (bite).
The iTero™ has been developed as an office-based intra-oral scanning system, connected by the internet to a centralized milling center and to the partnering dental laboratory. The systems enhanced visualization and real-time analytical tools enable clinicians to adjust measurements before completing the intraoral digital scanning (Digital Impression) of dental patients.
BioMet Article
– 3-D Cone Beam CT Scan
The i-CAT cone beam imaging system provides 3-D technology with the capability of delivering a continuum of services from diagnosis to treatment. From less radiation for the patient to a typical scan time of only 8.5 seconds and reconstruction in under 30 seconds, the i-CAT imaging is quick, easy, and more thorough for the practice. We are able to virtually treatment plan each case utilizing in office scanning with three dimensional digital reconstruction of the patient's anatomy. The 3-D anatomically accurate imaging allows me to create the most complete treatment plans benefiting patients with the most predictable surgical outcomes.
– Ostell Device (Implant Stability Evaluation)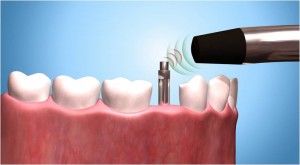 Osstell ISQ is a complete diagnostics system used to determine dental implant stability. Accurate measurements of implant stability provide valuable diagnostic insight that helps ensure successful treatments. It provides me with accurate, consistent and reliable stability measures needed for making informed load decisions, avoid failure and give patients added quality assurance. Today, more patients ask for immediate loading of their implants.
The Osstell ISQ meter stimulates a SmartPeg™ mounted on the implant, by emitting magnetic pulses. These cause the SmartPeg to resonate with certain frequencies depending on the stability of the implant. The resonance is picked up by the Osstell ISQ meter. The SmartPegs have been calibrated in such a way that they all show comparable values for the same degree of stability, even when measuring implants from different systems.
– Advanced Surgical Software and Guided Surgery Techniques


Restoration Based Implant Planning
Anatomage supports both crown-down and implant-up treatment planning methods. This is possible by combining other types of clinical data with the CT scan, such as a laser scan of the stone models or an intra-oral scan of the dentition (digital impression). Additionally, virtual wax-ups can be incorporated as well. This allows me to plan precisely how the implant will be positioned with the future restoration (crown, bridge or denture) and occlusion of the patient.
– Digital X-rays (Digital Radiography)
One new dental technology involving dental X-rays is digital X-rays. They offer the advantage of an 80 percent reduction in radiation, no need for film or processing chemicals, production of a nearly instantaneously image, and the ability to use color contrast in the image. Digital radiography is a form of X-ray imaging, where digital X-ray sensors are used instead of traditional photographic film. Advantages include time efficiency through bypassing chemical processing and the ability to digitally transfer and enhance images. Also less radiation can be used to produce an image of similar contrast to conventional x-rays.
Instead of X-ray film, digital radiography uses a digital image capture device. This gives advantages of immediate image preview and availability; elimination of costly film processing steps; a wider dynamic range, which makes it more forgiving for over- and under-exposure; as well as the ability to apply special image processing techniques that enhance overall display of the image.